Montessori School Bali
The architecture of the new Montessori School Bali is inspired by the Montessori principles – an international educational approach which, among other things, emphasises the importance of mixing children of different ages and giving the individual student freedom to move around the school and become absorbed through inquisitiveness and play. The school is also firmly anchored in Balinese traditions and the island's natural environment.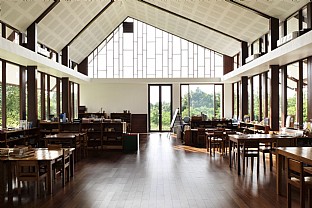 Fakta
Auftraggeber
Montessori School Bali
Adresse
Tibubeneng, Berawa, Indonesia
Architekt
Design architect: C.F. Møller Architects Executive architect: Espace Concept Bali
Landschaft
Design architect: C.F. Møller Executive architect: Espace Concept Bali
The design of the buildings, which will be constructed in locally available hardwood and natural stone, is inspired by traditional Balinese pavilions. The school's flotilla of pavilions forms a small rural community around an oasis which has large, shady trees. Covered verandas leading to communal areas will mark the transition between indoors and out, and between sunlight and shadow. The verandas will also provide shelter from heavy tropical rain.
A pathway crossing the green oasis extends along the sloping landscape. This is the school's main thoroughfare. From here students can move easily between activities and from one building to another. In addition to classrooms, each of which has its own playground and garden, the school has a library, art laboratory, carpentry workshops, multi-purpose spaces and a covered sports field, which protects users from the effects of both sun and rain. The sports field is also intended to be a feasible venue for important events in the local community. The oldest students will have their own field to tend.
As in traditional Balinese towns, the hilly landscape has encouraged the design of buildings at different heights with steps and slopes between them, to provide users with spaces to rest and meditate.
Gallery