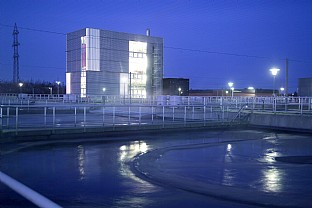 Aalborg Sludge Drying Plant
The Aalborg Sludge Drying Plant is the first installation of its kind in Denmark. Environmental concerns call for alternative treatments of waste water sludge, and the plant secures 100% recycling of biological sludge. The proces is fully automated, and takes place in a closed circuit without further environmental loads.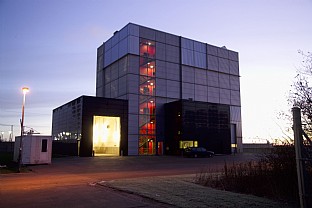 Facts
Client
Aalborg Municipality
Size
4.7 tonnes of dewatered sludge (with 25% dry matter)
Engineering
Krüger A/S, Kampsax Geodan, Va Tech Wabag, Aage Christensen A/S
Architect
C.F. Møller Architects
Collaborators, other
Krüger A/S (Client Consultant)Kampsax Geodan (Geotechnics)Va Tech Wabag, Germany and Aage Christensen A/S (Steel Construction)
The 21 m tall installation is a steel construction on a concrete base, and the cladding is a composition of raw corrugated aluminium and black painted panels in horizontal and vertical patterns, separated by profiles and setbacks. The result is an elegant and graphic play in the facades that mirror the changing light of the sky.
Gallery