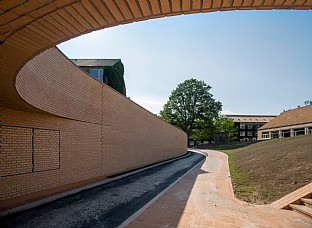 Northern underpass
Tunnel for pedestrians and cyclists connects the campus of Aarhus University and unifies the expansion of the area architecturally and functionally.
Facts
Size
2,700 m², 2,500 m² landscape + 200 m² tunnel
Construction
Dan Jord, Poul Pedersen og Buus
Architect
C.F. Møller Architects
Landscape
C.F. Møller Architects
The Aarhus University campus has been expanded with the new University City, which was formerly the Aarhus Municipal Hospital, and a series of tunnels unite the two campus areas previously separated by the busy Nørrebrogade road.
The northern tunnel is an important link in connecting the two areas architecturally and functionally. A mix of yellow and red bricks in the curved walls of the tunnel creates a gradient transition between the yellow brick buildings of Aarhus University in the green University Park and the compact red brick buildings of the former Municipal Hospital. At the same time, the tunnel is an important part of Aarhus University's infrastructure, circumventing the busy Nørrebrogade with a safe connection for pedestrians and cyclists. The link also strengthens Aarhus University's connections to the surrounding neighbourhoods towards Trøjborg and Katrinebjerg.
Integrated into the surroundings
With a simple gesture, the enclosing brick walls wrap the pedestrian and cycle path that winds under Nørrebrogade. The brick walls decrease in height as the tunnel merges with the terrain of the University Park and the new University City, where the route links with new and existing path systems and winds naturally into the hilly terrain. From the University City, the tunnel is also accessed via wide steps with curved brick sides.
With a consistent choice of materials, and with a design that blends naturally into the sloping and winding terrain of the University Park, the tunnel and landscape integrate with the areas on either side of Nørrebrogade and tie the entire campus together.
Gallery