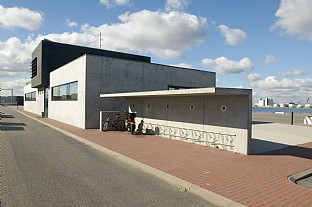 Port of Aarhus, Gate building
Gate building, checkpoint for traffic by land to the container terminal.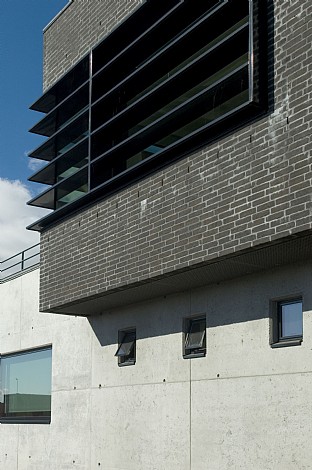 Facts
Engineering
Sten Ejsing rådgivende ingeniørfirma A/SIngeniørfirmaet Henry Berthelsen A/S
Architect
C.F. Møller Architects
Awards
Aarhus Municipality Architecture Award. 2011
The gate complex is the checkpoint for land traffic to and from the Port of Aarhus container-terminal, and consists of a gate building as well as a covered check-area. The slightly raised ground-floor of the building, overlooking the traffic areas, contains check-in desks and separate offices for the land- and sea-side handling operators, and a security office controlling the entire terminal. The first floor contains meeting-room, changing-rooms and a lounge with access to a roof-terrace. The two-level layout means that users can enjoy amazing views of the city and sea, raised above the dense flow of trailers and containers. The gate building is designed as two interlocking volumes of cast in-situ concrete and dark brick respectively, manipulated to create a lively elevation, and accommodate features like the roof-terrace, main entrance and staircases. Exterior lighting is integrated into the buildings' cantilevers, above suspended grille-ceilings.
Gallery