Egetæpper A/S
In 1984 the head office of the carpet manufacturer Egetæpper was expanded with a new façade and two extensions; a reception building and another building with showroom and administration. The façade is a six meters high steel wall in a dark green color that runs 400 meters along the main road, thereby unifying the administration building and the large production areas behind it. It is only interrupted by the reception building in glass in front of the façade and by a small sculpture garden set in an opening in the façade wall, through which you can get a glimpse of the factory behind.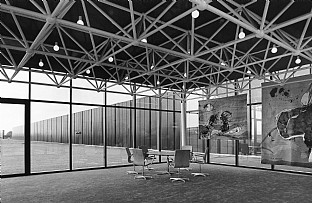 Facts
Engineering
Torben Juul ApS
Architect
C.F. Møller Architects
The showroom is a tall room in two floors with an atrium opening towards a large skylight in the middle of the room. The natural light brings out the colors and structures of the carpets, while the design of the showroom in itself creates an aesthetic experience for the guests. The interior design is a mixture of carpet exhibitions, niches for sitting and an open auditorium for video projections.
Gallery