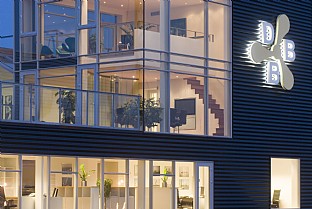 Danish Salvage & Towing Company
The new domicile of the Danish Salvage & Towing Company (DBB) occupies a unique and prominent position on the outer edge of the multi-terminal.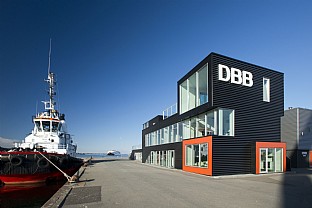 Facts
Client
DBB (Danish Salvage & Towing Company) Amatech a/s construction company
Year
2005-2006, 2010, 2013-2014
Architect
C.F. Møller Architects
The building consists of offices and approximately 1,200 m2 workshop and warehouse. The administration and staff service building has been designed with discreet references to the seagoing life, incorporating basic maritime elements such as the deck, railing, bridge and ladder, without the totality coming to resemble a ship.
Despite its modest size, the building has been designed in three storeys to take maximum advantage of the fantastic location and view. A common amenity is the extensive roof terrace on the first floor (the "deck"), which concludes in a large stairway offering a panoramic view of Aarhus Bay. Two executive offices on the top floor feature double-height spaces with suspended balconies and internal stairs.
The building is mainly composed of standard industrial building components, such as corrugated metal facades, pre-fab concrete panels and industrial u-glass profiles, which nevertheless attain a certain refinement through the use of precise detailing and joints.
Gallery