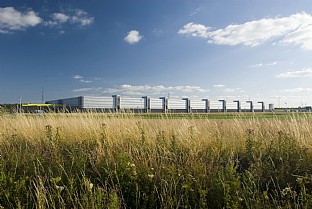 Sanistål A/S, Taulov
The Sanistål warehouse in Taulov near Fredericia is Denmark's largest steel warehouse.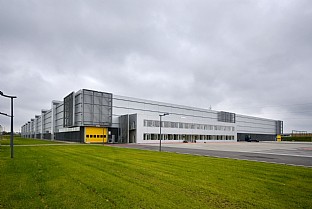 Facts
Address
Fredericia, Denmark
Size
43,000 m² (office/warehouse)
Construction
E. Pihl & Søn
Architect
C.F. Møller Architects
Landscape
C.F. Møller Architects
The hall stands out, not just because of its great size, which corresponds to six football pitches, but also in its appearance. The building, which is rectangular with silver-grey aluminium facades on a base of black concrete slabs, is equipped with a number of glass bays along its sides which break up the long lines and allow daylight to pour into the hall. Steel lattices also create shadow effects and help to give the building character. The colour palette utilised, with its shades of yellow, red and blue, really brings the building to life; all of the cranes in the hall, for example, are in yellow.
Besides the store itself, the complex includes offices, changing facilities, and a canteen. The project is designed to allow for the later addition of another warehouse.
Gallery