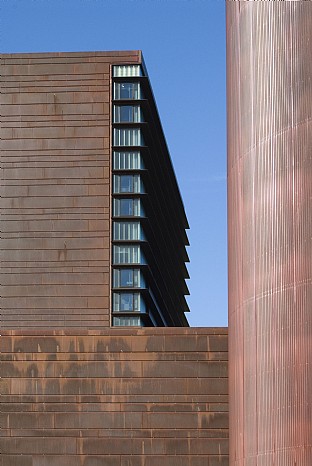 Skive CHP station
Skive CHP station is located on a ridge along the main road to the town of Skive – visible both from the fjord, the town and the nearby residential areas.
Facts
Client
I/S Skive Fjernvarme
Size
1,350 m² + 2,600 m² re-build
Competition
1st prize in competition. 2004
Architect
C.F. Møller Architects
Collaborators, other
Bruun & Sørensen, Aaen A/S, Carbona INC
Awards
Shortlisted for Copper in Architecture Awards. 2007
1st prize in competition. 2004
The building's simple shapes and distinctive details signal 'power station' – shorn of all such familiar building features as doors, windows or storey divisions. The facades are clad with copper panels which, in a few years' time, will take on a warm tone and eventually, through the workings of time and weather, acquire a greenish patina with a fine play of colours and a beautiful depth. The station is based on gas production from biomass, and is the first of its kind in the world. A showroom has been established for visitors, as well as footbridges on several storeys in the large halls, to allow the public to learn about the complex and watch it in action.
Gallery