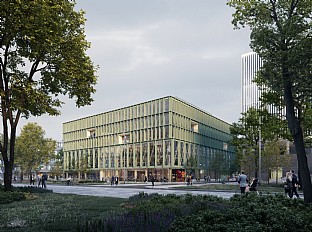 i8, iCampus, Werksviertel München
i8 is a versatile new office building in Werksviertel, Munich, Germany build in a hybrid timber construction which contribute positively to the LCA of the building and helps to secure a good indoor climate.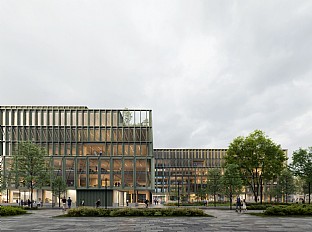 Facts
Client
R&S Realty III GmbH & Co.KG
Competition
1st prize in architectural competition. 2020
Client consultant
Schwab Engineers
Architect
C.F. Møller Architects
Collaborators, other
RKW Architektur+, Merz Kley Partner, BWP Ingenieure GmbH, Drees & Sommer
Awards
1st prize in architectural competition. 2020
i8 is a new office building that offers a variety of flexible spaces that embraces the changing demands of its users, offering numerous opportunities for co- and networking. Located on the edge of Werksviertel the building stands out as a distinct structure with a unique identity that draws on the industrial heritage of the area, forming a gateway into the quarter. The office workspace is designed with tall ceilings and varied depths to secure maximum daylight. A large atrium, made with warm wooden materials and polished concrete floors, works to support the connectivity, knowledge sharing, and visual contact between the different floors and units. The floor plan is developed with a high degree of flexibility, and spaces that can easily transform into single offices, open-plan offices, or a combination of both.
Timber construction
The facade is made of recycled anodized aluminum, in a dimmed shade of green, which complements the color of the forest, and brings out the warm tones. The building is using a modular design that facilitates hybrid timber in most parts of the construction. The internal spatial and structural organization of the building is based on the idea of combining three identical office zones, brought together by one unifying façade that extends along the entire building. The façade system contributes with multiple benefits such as energy savings, by using solar shading and natural ventilation, minimizing noise and pollution, and most importantly a good indoor climate with sufficient daylight and acoustic conditions that accommodate a pleasant working environment.
Gallery