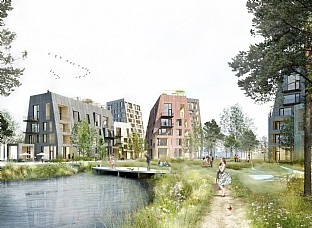 Örnsro Timber Town in Örebro
Örnsro Timber Town is a visionary residential quarter in central Örebro that is built in solid timber and focuses on integrating nature into the urban landscape.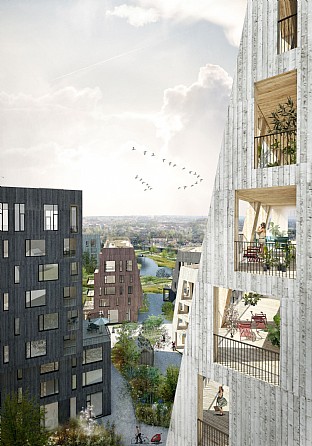 Facts
Client
Slättö Förvaltning AB
Size
18,000 m², 218 residential units
Competition
1st prize in architectural competition. 2016
Architect
C.F. Møller Architects
Landscape
C.F. Møller Architects
Awards
S.ARCH - Conceptual Design Awards - Best Design in Category Residential Building. 2018
AR Mipim Future Projects Award, Commended. 2017
1st prize in architectural competition. 2016
The new urban quarter comprises several apartment buildings of varying heights. The buildings will be created with solid timber frame structures, and will contribute positively to the overall lifecycle perspective of the project. Timber is a renewable material, with low energy consumption and a limited carbon footprint.
The residential buildings in Örnsro Timber Town interact with the urban city park, Ängen (The Meadow), that includes a variety of activities and plazas for social meetings and recreation. The urban city park gives the area an unexpected meeting between city and wild nature.
Örnsro Timber Town is going to be an including urban quarter in which the city's urban and social qualities interact with the park's organic structures. The proposal vision is to create an exciting place in Örebro, of unique value, with innovative architecture. Örnsro Trästad will be a vibrant quarter and a destination of Örebro.
Gallery