Netto, Bygholm Bakker
The Netto store at Bygholm Bakker is the first of a new concept that sets new standards for well-being and sustainability in grocery stores. The store is visible and inviting with an elegant and large enclosed entrance area and timber-clad facade. The glass section draws daylight deep into the building and makes the shop appear bright and open, creating a view to the beautiful timber roof construction.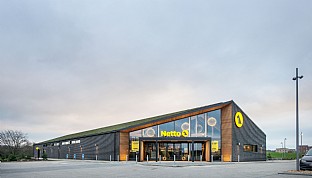 Facts
Architect
C.F. Møller Architects
Landscape
C.F. Møller Architects
Awards
Nominated for the Building Award in the Sustainability category. 2021
The entrance area is obliquely cut and the dynamic effect creates a natural open space in front of the entrance. A fresh produce section is placed in the forecourt so that the marketplace and entrance area are integrated into one. An exceptionally good indoor climate for a grocery store is assured in part by the large intake of daylight, improved air quality and the reduction in the use of materials containing harmful substances.
Sustainable and circular construction
In order to minimise the environmental impact of material production, large parts of the building are made of timber. The building's facades are made up of timber elements, and the roof structure is made of Danish-produced laminated timber. The entrance area is lined with heat-treated Nordic pine. The building elements and mechanical joints are such that it is possible to separate parts of the building into complete elements for recycling and use in other construction projects. The landscape solution around the store enhances the local area's biodiversity with native shrubs and trees as well as natural grasses and wild flowers. A green sedum roof contributes to rainwater immersion and temperature control, by keeping warm during the winter months and providing natural cooling during the summer months. Solar cells on the roof and a special energy plant make the store partly self-sufficient with energy. Sustainable initiatives have resulted in DGNB Gold certification.
Gallery