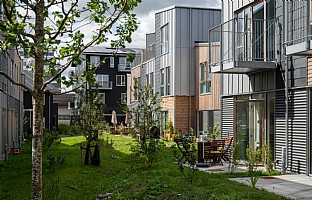 Rullestenen, Musicon, Roskilde
Rullestenen (the rolling stone) in the creative Musicon area of Roskilde is a sustainable building that imagines residential development in new ways by focusing on sustainability and prioritising community. Rullestenen is an alternative development that offers different forms of housing, where development and cultivation of the community is prioritised over the square metre area of the individual home. What each of the total of 47 homes built with pre-fabricated timber modules have in common is that they are compact, with small bedrooms and smaller living rooms. This motivates the residents to seek out and interact with their neighbours in the very generous communal facilities.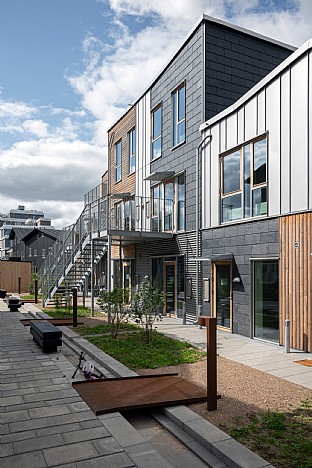 Facts
Client
EcoVillage, MT Højgaard and Scandibyg
Construction
MT Højgaard A/S
Architect
C.F. Møller Architects
Landscape
C.F. Møller Architects
Facilities that support the community
The design of the vibrant street areas, which also function as a local rainwater drainage system, are ideal recreational areas for the residents and plant the seeds for a good neighbourhood. Two shared green garden spaces, planted with fruit trees, shrubs, and other plants, promote biodiversity and invite recreation, relaxation, and play. A unifying community building, built on two floors, offers many different facilities such as a dining room, workshop, laundrette, rehearsal room, office workspaces, TV room, guest rooms, and an area for teenagers. In the community building''s dining room, a south-facing terrace leads out to the shared garden space. The façades of the community building are clad with timber set at different angles and therefore have their own identity to create a meeting point for the entire complex. The residential development''s façade expression is designed with a patchwork pattern of many different recycled or Nordic Ecolabel materials such as metal, timber, and slate, to create a multicoloured, vibrant whole. The façade of the residential complex has a dynamic and varied expression, with parallel indentations that unite the development and its integration of different apartment types.
Gallery