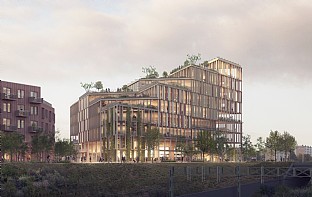 Hyllie Play
Hyllie Play is a triangular shaped office building of 14,500 sqm in Hyllie. The new office contributes to the experiential environments, creative meeting places and green spaces for the whole district.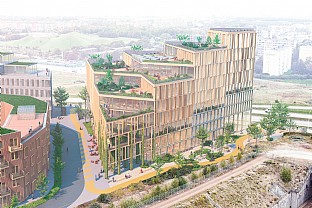 Facts
Architect
C.F. Møller Architects
Landscape
C.F. Møller Architects
Awards
1st Prize in competition. 2021
Hyllie is a district in the Väster urban area of Malmö and is Malmö's largest development area. The new block interacts with its surroundings and prioritises a focus on well-being, health and creative encounters in a sustainable setting. The project consists of generous spaces for coworking, a gym with a multi-purpose hall, restaurant and café, sports and activity park, neighbourhood cinema, dry cleaner, bicycle workshop, urban gardening and more.
At the southern tip of the block there is a vertical green park that gives the project a unique character. The park is accessible to all and provides space for recreation, outdoor work and also an exciting lookout point.
New landmark and sustainability focus
The prismatic geometry and stepped scale of the building provides an architecture with a clearly identifiable silhouette for its surroundings and at the same time, improves the spatial qualities for the local environment. It is a landmark with a clear architectural concept that is visible from a distance. The building volume consists of several equally sized triangles that create a varied and green environment with terraces stepping down towards the residential quarters. The volumes provide good conditions for daylight and create a noise barrier for the roof terraces.
The structure has been built as a hybrid, prioritising solid wood and green concrete, as well as recycled materials in the facades, interior finishes and for the landscaping. Integrated landscape design is a central part of the architectural concept, ensuring a resilient neighbourhood with positive ecosystem services. The building is certified according to Breeam Excellent, Well Platinum, NollCO2 and Climate Smart Construction Site Gold (Wästbygg's own certification). The project is also included in the Hyllie Environmental Programme and Climate Smart Hyllie, as well as a commitment to C.F. Møller Architects' membership of LFM30.
Gallery