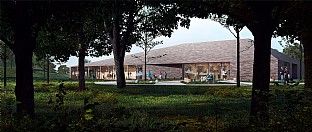 New Danevirke Museum
Danevirke Museum is the visitor centre for UNESCO-protected Danevirke Fortress and Dannevirke Archaeological Park, encapsulating both history and nature. The new museum refers to ancient times, while the architecture is modern and sustainable.
Facts
Client
Danevirke Museum, Sydslesvigsk Forening (SSF) and the A.P. Møller Foundation
Address
24867 Dannewerk, Germany
Architect
C.F. Møller Architects
Landscape
C.F. Møller Architects
Danevirke Museum is located as part of the Archaeological Park, where visitors can experience important parts of the fortress's history, consisting of ramparts, walls and wetlands that run across the old Danish province of South Schleswig in what is now northern Germany. In terms of materials and design, there is a clear interplay between the history and architecture of the new Danevirke Museum.
The interior of the museum contains areas for exhibitions and educational activities, as well as a café and common rooms, which also benefit the local area. Outside, the museum building also refers to the history and landscape through its form, which is inspired by the formations in the landscape created by the fortifications under the ramparts. Low facades and an extended roof, which is scaled down to meet the ramparts where the gate linking the North with Europe has been covered up following the archaeological excavation, create a horizontal view of the monument and the landscape.
Tangible sustainability brings new life to history
Large parts of the new museum are constructed from FSC/PEFC certified wood, as well as upcycled building materials from the old museum building and a historic barn from 1864.
An iconic exhibition space in the centre of the building encloses visitors with seven-metre-high walls which give the experience of how massive the fortifications once were on a 1:1 scale. The old, historic building materials are incorporated into the walls for the past to be preserved and so visitors can touch the history. The area also serves as a central hub and lounge, where significant lighting creates an atmospheric ambience.
Zones along the interior facade act as break spaces for reflection, and overlook the ramparts and nature to create synergy between museum exhibition and monument.
The nearby landscape connects to the park and monument via path systems, and along the museum's exterior facade are seating areas for visitors and walkers.
Gallery