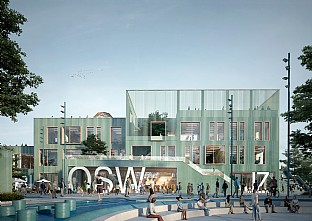 Open School in Waldau, Kassel
The Open School in Waldau (OSW) sets a new standard for learning environments in German schools, by uniting nature and education in a flexible and sustainable multi-use building and landscape.
Facts
Client
Stadt Kassel Immobilien GmbH & Co. KG represented by GWG Projektentwicklung GmbH in collaboration with Montag Stiftung Jugend und Gesellschaft
Competition
1. prize in international architectural competition. 2021
Client consultant
Hille Tesch Architekten + Stadtplaner PartGmbB
Architect
C.F. Møller Architects
Landscape
C.F. Møller Architects
Collaborators, other
Wenzel + Wenzel WELL concept GmbH
Awards
1. prize in international architectural competition. 2021
The 6-class comprehensive school doubles as a focal point of the local district, with community-oriented functions like library, youth centre, music rooms and workshops into the Open School in Waldau (OSW) in the local district, to be used flexible by local residents in and out of school hours.
Children demand different environments as they get older, so the learning environments have an adaptable design depending on age. Further, the Open School in Waldau (OSW) is designed to support a conceptual teaching environment where students learn from each other through creativity and collaboration.
The teaching areas are arranged in clusters with flexibility so both traditional and project-based teaching can take place side by side. Shifts in the building's geometry create multiple corners and varied environments for teaching and activities inside and outside.
Outdoor spaces are forming a campus that invites the entire community in. The area is designed with a variety of zones that invites to learn, exercise and recreation. An existing pathway is drawn into the school's atrium and creates an urban gesture by connecting the inside with the outdoor surroundings. Wide stairs outside have an inviting gesture to the surroundings by opening the building to the new town square to the west and give access to the roof. The staircases also function as an urban space with landscape views and hang-out areas.
Sustainable and Future-proof
The Open School in Waldau (OSW) is based on the DGNB certification requirement with 6 project-specific themes: flexibility, indoor climate, healthy living, optimal operation, longevity, and dual function. These have inspired to design a flexible timber hybrid building with a minimum of load-bearing walls for and adaptable and future-proof design.
The hybrid wood construction with lightweight components shortens the construction time for load-bearing frames with 30-40% compared with conventional solutions. And the environmental impact of the material choice reduces the C02 emissions with 50% compared to conventional solutions.
Gallery