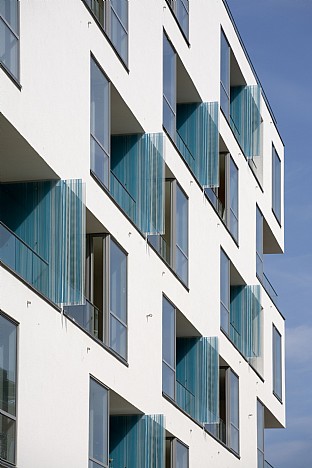 Nordlyset, Wohnungen am Amerika Plads
Nordlyset (Northern Lights) is a sculptural residential block with an expressive facade, located in the new urban quarter around Amerika Plads in Copenhagen.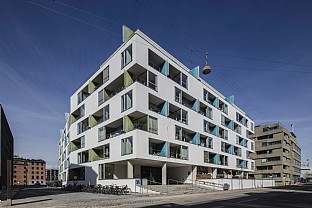 Fakta
Auftraggeber
JM Danmark A/S
Adresse
København, Danmark
Fläche
11.000 m² (+3.000 m² Tiefgarage - 102 Wohnungen)
Bauausführung
E. Pihl & Søn
Architekt
C.F. Møller Architects
Landschaft
C.F. Møller Architects
Preise
Baupreis der Kommune Kopenhagen. 2007
Nominiert für den Mies-van-der-Rohe-Preis. 2007
Gewinner des Wettbewerbs "Ausgewählte Bauten 2006" in der Kategorie Wohnungsbau. 2006
Vinder af Årets Kontorbyggeri 2023
The development takes the form of a white-plastered block surrounding an interior outdoor courtyard. The facade line is broken to the north and south, giving the building an organic expression, while the bright and friendly-looking apartments enjoy a view of the Sound. The details emphasise the overall expression, with coloured glass panels in a bright striped pattern, designed in co-operation with the visual artist Ruth Campau. The glass panels divide off the balconies, and are also utilised in the block's entry areas.
Gallery