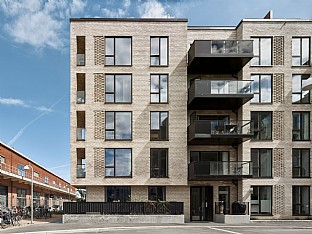 Sundmolen, CPH Porthouse
The new housing development with 86 new homes at Sundmolen's plot 5.05 in Copenhagen's Inner Nordhavn, refers to the typical Copenhagen apartment block and carries on the history of the traditional building style from the Nørrebro, Vesterbro and Østerbro districts.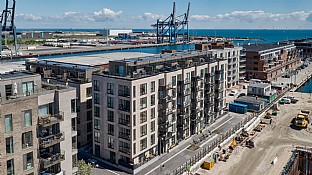 Fakta
Adresse
Copenhagen, Danmark
Fläche
8.000 m², 86 apartments
Architekt
C.F. Møller Architects
Landschaft
C.F. Møller Architects
The building zone is among the most centrally located in the new plan for the development of the whole of Sundmolen, based on a clear vision - this area will be the sustainable town of the future with a clear green profile, the preservation and integration of the existing warehouse buildings, and with urban spaces along the harbour creating a unique new part of Copenhagen.
The architectural character of the development helps to ensure a calm and intimate atmosphere, supporting the experience of a lively urban quarter in close proximity to the harbour. The height of the new development is matched to the surrounding green spaces and views of the harbour, to ensure attractive light and shadow effects. Open passages at the full height of the buildings help to ensure an inflow of light into both the courtyard spaces and the homes. At the same time the passages create a natural extension and connection between the shared green urban spaces and the inner court yards of the development. In addition the passages contribute to a vertical expression that contrasts strongly with Sundmolen's four preserved warehouses, which are characterised by a striking horizontal expression.
Gallery