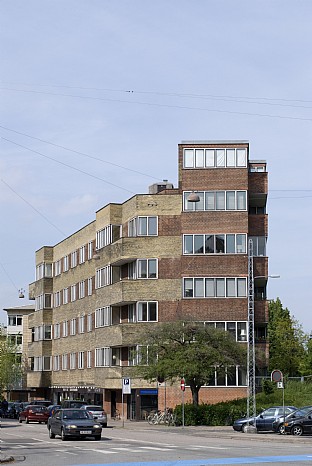 Vodroffsvej
When the building at Vodroffsvej was completed in 1929, it created a stir in the public debate. The horizontal band of windows, the flat roof and the layered façade in yellow and red brick were not the typical features of Danish buildings at the time. Instead, the style was inspired by The Bauhaus School and the European modernism that thrived in the Netherlands and Germany. The modernist style of the 1930es is known as functionalism in Scandinavia and is characterized by clearly marked horizontal lines and corner windows made possible by the constructional progress.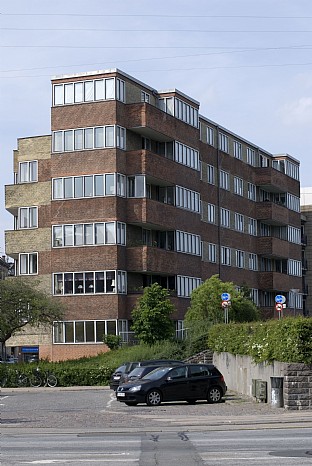 Fakta
Auftraggeber
Vodroffsborg A/S
Adresse
Copenhagen, Danmark
Fläche
18 apartments and 7 shops
Architekt
Kay Fisker and C.F. Møller
The building was at the time called 'The Sandwich Cake house' due to the distinct two alternating layers of yellow and red brick. Later, it got the name 'The Iron' because of its shape seen from above: the block consists of two wings gathering in a point at the one end. The one wing facing the lake has six floors, the other wing holds five. Due to the uneven terrain the levels of the block shift, so that the windows in the one wing intersect with the brick façade of the other wing. The building houses 18 apartments and originally seven shops.