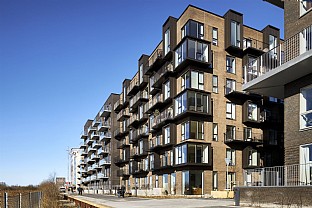 Cobrahave
The new residential block in Ørestad South, Cobrahave, is re-interpreting Copenhagen's architectural heritage by taking the Copenhagen blocks of flats as the starting point.
Fakta
Auftraggeber
Obel-LFI Ejendomme A/S (Developer: Agenda Property)
Adresse
Copenhagen, Danmark
Fläche
21.200 m², 220 dwellings, 70-120 m²
Wettbewerb
1. Preis im wettbewerb. 2015
Bauausführung
V8 Construction
Architekt
C.F. Møller Architects
Landschaft
C.F. Møller Architects
Preise
1. Preis im wettbewerb. 2015
The project, which includes 220 apartments is situated next to Amager Fælled that, with its rich nature and recreational opportunities, offers Cobrahave residents plenty of light and air in the immediate vicinity of the apartments.
Based on the classical Copenhagen blocks of flats, the façade is a variation on recognisable proportions and decorative motifs: bay windows, French balconies, patterned brickwork and coloured brickwork, often in shades of red. The base at the ground floor level is marked with high plinths and entrance areas, in the classical Copenhagen tradition. The roof is articulated and varied, with attics and cornices.
Regarding interiors, flexible homes will be created, primarily as flats of around 100 square meters, all with balconies. In each apartment a solid core with kitchen and bath will be established, so that the remaining areas are free to be arranged as wanted. By doing this, flexible flats are established which will be attractive to everyone, including single people, young families, families with several children, and older couples and thereby create diversity in the residential profile.
Gallery