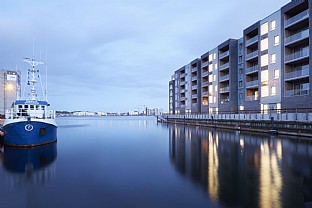 Nordre Havnepromenade
The North Harbour Promenade is a new harbourside residential area in Nørresundby near Aalborg on the sunny side of the Lim Fjord. The project includes youth housing, modern flats for families, a SuperBrugsen grocery store and a small commercial lease. The same bricks have been used throughout the complex, as a recurring theme.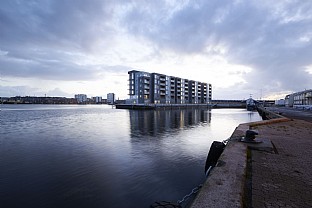 Fakta
Auftraggeber
Raundahl Moesby, TN Udvikling, and Nørresundby Boligselskab
Fläche
185 dwellings, 15700 m² (111 youth residences, 74 family residences)
Architekt
C.F. Møller Architects
Landschaft
C.F. Møller Architects
The project also includes landscaping, which features a harbour promenade with various different recreational opportunities for all of the harbour's current users.
The harbour is historically characterised by architecture that reaches for the sky, with sleek building profiles, silos, cranes and chimneys. The two residential towers with a total of 111 units for young people and 17 owner-occupied flats draw their inspiration from this historical architecture. Each of them is divided into two slender, high volumes of brick that give the towers a particularly robust character, with references to the warehouse buildings of bygone times.
Between the two residential towers there is a building with 12 rented and owner-occupied flats, as well as a small commercial lease on the ground floor towards the fjord. The building is placed on a plinth foundation that gives a natural division between the semi-private and public outdoor recreational areas.
On the pier – with water on three sides – there are 45 modern family homes in a long building, at a unique location with the Lim Fjord on one side, and the inner harbour on the other. The building is divided architecturally into tower-like volumes, creating sleek, high profiles against the fjord.
As an overall measure, all buildings are placed on an elevated foundation – a plinth – to protect from high tides and create space for a number of public squares. The plinth has stairways, seating steps and vegetation with hardy grass species, as well as trees.
The SuperBrugsen grocery shop is built in hard-baked bricks in combination with aluminium panelling and large window sections.
Gallery