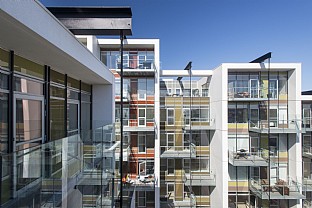 Havneholmen
Havneholmen consists of 400 homes situated at one of the city's most attractive sites in the port area. The project combines urban development, focus on the microclimate and the wish to create a diverse and lively setting by the waterfront.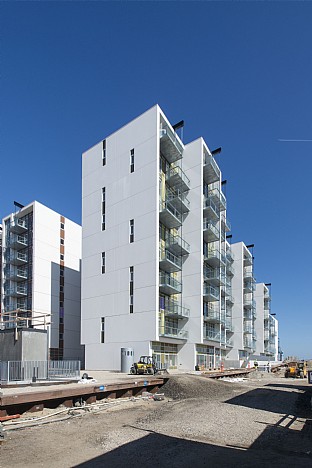 Fakta
Auftraggeber
Pensam and TopDanmark
Fläche
38.000 m² housing, 14.500 m² underground parking
Bauausführung
NCC Construction
Architekt
C.F. Møller Architects
Landschaft
C.F. Møller Architects
Preise
1. Preis im wettbewerb. 2012
Havneholmen has a prime waterfront location overlooking Aarhus Bay. It consists of a series of tall, slim buildings topped with characteristic steel beams as a reference to the classical canal-side buildings with exterior hoists. Havneholmen is a key element of the creation of an attractive new quarter in the port area, near water, recreational areas, and the city's marina.
By combining smaller two-room and three-room flats with large five-room family homes, the aim was to ensure a diverse mix of residents. Furthermore, 140 of the homes are designed for senior life. The project focuses on a healthy indoor climate, with ample daylight flooding through the living rooms, ventilation with heat recovery, and separate balconies for all homes.
Havneholmen's communal courtyard at the heart of the complex offers a calm and tranquil setting that combines recreational space with green vegetation based on a coastal meadow theme.
During the next few years, Havneholmen will become the closest neighbour to Generationernes Hus (multigenerational house), where homes for senior citizens, nursing homes and daycare facilities will gather older people, children and young people under one roof, emphasising the wish for diversity in the new port area. The area is also planned to ensure a car-free zone, with a ramp down to a basement car park at the entrance to the area.
Gallery