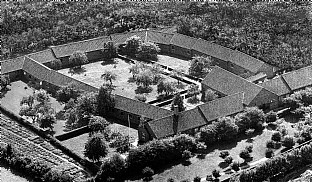 4. May College, Aarhus
In the years following the Second World War, nine 4th May colleges were built in Denmark to commemorate the freedom struggle. Like living monuments, they were intended to remind the future youth of the values of the Resistance, while supporting their education.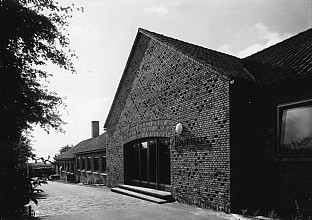 Fakta
Auftraggeber
Frihedsfonden
Jahr
1950, 2005: Renovation/alteration
Architekt
C.F. Møller Architects
The 4th May College in Aarhus was designed by C.F. Møller, who were also responsible for the design of the nearby buildings in the area along Fuglesangs Allé: the Aarhus School of Business, the Dental College, the Academy of Music and Møllevang Church. All of the buildings in the neighbourhood share a coherent architecture and the homogeneous use of brick and tile on their facades and roofs – like Aarhus University, which lies within walking distance.
The 4th May College in Aarhus has 55 rooms and was built in 1949 in a former allotment district. Some of the original vegetation has been retained, giving the surroundings a verdant and placid atmosphere. The building's four low wings comprise an enclosed courtyard, from which a common hall discreetly protrudes. The wings are not completely square to each other, but are slightly angled in small blocks. The facade of reddish-brown yellow brick and the red pitched roof with scorched tiles, broken only by square white windows, testifies to the consistent use of materials.
In 2005, C.F. Møller renovated all roofs, replaced exterior doors and windows and converted the entire garden area; and 2013/14 all exterior masonry and landscaping was renovated and all kitchen environments with adjacent toilet and shower facilities and common areas remodeled.