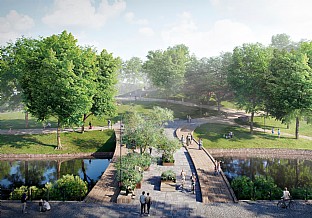 Borås City Park
Borås City Park in Sweden is being developed to become part of the new linear park route, Viskans Park, linking existing and new green areas in Borås and making them accessible for pedestrians and cyclists.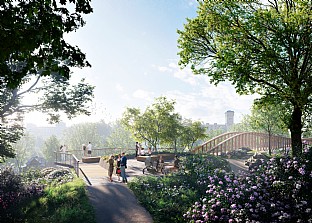 Facts
Landscape
C.F. Møller Architects
Borås City Park is an environment with fantastic turn-of-the-century qualities that deserve to be highlighted. The landscape concept "Boro - reusing a place", is a careful interweaving of existing strengths and added qualities.
Recycling and new attractive placemaking
The vision celebrates reuse by drawing on the history of the site, its cultural and historical values and existing qualities as a way to anchor and integrate the new parkland. This is both environmentally sustainable and gives Viskans Park a strong social anchor. Pavements and wall elements are created with inspiration from the Boro aesthetic, combining different types of stone and becoming a signature for the whole Viskans Park.
A new wooden walkway and footbridge makes the park accessible and are carefully fitted into the dramatic topography of the park and placed to reduce the impact on existing trees. New site formations form distinct and programmed destination points, in contrast to the movement that the winding paths invite. The redesign of the Hallberg Bridge creates a new attractive waterfront site in the city that connects the urban park and the city centre. The Boro concept links all of these new additions and creates a uniqueaesthetic identity for Viskan Park.
Gallery