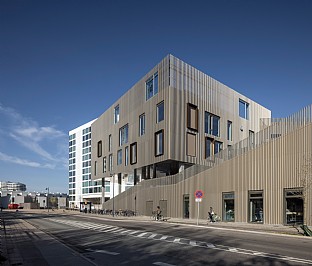 The School on Islands Brygge, Secondary School
Between Islands Brygge, the Port of Copenhagen and Amager Commons, the School on Islands Brygge is built for middle school pupils, with a special focus on diet and movement.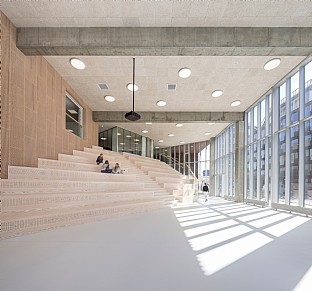 Facts
Client
Københavns Municipality Byggeri København (BYK)
Address
Copenhagen, Denmark
Client consultant
Bascon A/S
Architect
C.F. Møller Architects in collaboration with Tredje Natur
Landscape
C.F. Møller Architects in collaboration with Tredje Natur
Collaborators, other
Autens Future Schools
Awards
Nominated for the Renovation Award in the category: Institution.. 2022
1st prize in architectural competition. 2017
Highly Commended - Civic Trust Awards 2023
The school's special focus enable pupils to relate theoretical teaching with physical, sensory and experience-based learning. This type of learning has given shape to New Islands Brygge School.
The building takes its triangular shape from the adjacent city, port and commons, which each serve as inspiration for the choice of materials and colours.
Since food is a key element of the school's identity, the dining hall is the central room. The double-high-ceilinged dining hall is not just the canteen, but also the hub which interconnects all of the school's functions. This makes the dining hall the gathering point where pupils can meet across the school's many activities.
Since movement is another focus area for the school, it is important that the school's architecture stimulates physical activity and play. This is achieved in particular through the building's dynamic spiraling design which, with a staircase motif, issues an invitation up to the school's active rooftop area. The roof landscape gives access to several of the school's functions, so that pupils can take a fun and active short cut across the roof. The top part of the roof is the sports area, with ample opportunity for physical activity on the running track, in the parkour area, or in the enclosed ball pitch.
The school's interior and outdoor spaces are designed to be in close contact with each other. Each class therefore has direct access to the rooftop landscape, while the school's natural science area is connected to a rooftop zone with a biology garden, hothouse for physics and chemistry, and gardens that are used in cookery lessons.
Gallery