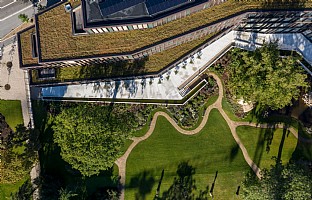 Carlsberg Central Office Landscape and renovation of Carl Jacobsens Garden
The Carlsberg headquarters' landscape solution bridges the gap between past and present, internal and external, and public and private, with climate adaptation as the focal points.
Facts
Client
Carlsberg Breweries A/S
Address
Valby, København, Denmark
Competition
1. prize in architectural competition. 2008
Client consultant
EKJ Rådgivende Ingeniører
Architect
C.F. Møller Architects
Landscape
C.F. Møller Architects
Awards
2nd place in Paysage ECOtech Green Award in the category HI-TECH CITY LANDSCAPE: NBS and SUDS. 2022
1. prize in architectural competition. 2008
The landscape design around Carlsberg's head office builds on the site's long historical tradition of tying buildings, gardens and landscape together. The building is interlinked with the existing protected garden in a gentle way. The building's geometry and terraces are adapted to both the terrain and the garden's large, broad-crowned, conservation-worthy trees. The location's historical significance for Carlsberg has been reinterpreted as a characterful, functional and sculptural landscape feature that adds new social and recreational dimensions to Brewer Jacobsen's old romantic garden. Located on the edge between new and old, garden and building, the new sculptural water feature 'Kilden' ('The Spring') gently marks the meeting between the internal areas of the head office and the listed garden. The garden has been transformed into a public recreational breathing space and brought into a new era with more publicity and wider use, where climate adaptation and accessibility are linked to the site's cultural heritage.
Relaxing nooks and rainwater collection
The large new water feature consists of three connected interpretations of water. In the upper garden is a reflective pool with water lilies, next to a stylised interpretation of a stream. The stream ends in a tall cascade that in turn flows into a raised lake with irises and water grasses.
Rainwater from roofs and surfaces is collected and processed locally. The collected rainwater is recycled recreationally in the garden's sculptural water cascade. Excess surface water is stored in a buried rainwater aquifer and recirculated for use in the water cascade. The water features form a series of relaxing nooks and terraces on both sides, creating a natural and inviting sculptural edge between public park areas and the headquarters' private terraces. Between the water feature and the protected neoclassical garden is a lush and diverse belt of planting, with perennials, grasses and small shrubs: a reinterpretation of the romantic garden that used to make up the garden's western border.
Gallery