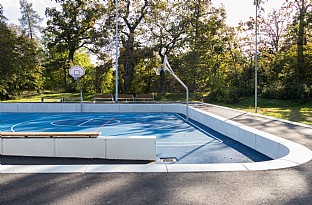 Fisksätra Multisport Court
A safe and inclusive city park that welcomes all regardless of age or gender. The park serves as an arena for activity and a gathering point, bringing together sports and leisure whilst connecting the city to the water.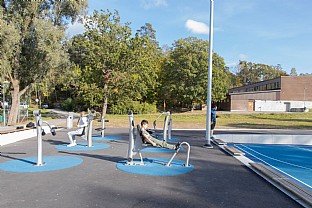 Facts
Address
Fisksätra, Nacka, Sweden
Landscape
C.F. Møller Architects
Collaborators, other
Black Ljusdesign
Along with the refurbishment of the football pitch in Fisksätra, Nacka Municipality wants to create a local sports ground - a natural meeting point that inspires spontaneous play and exercise. An overall vision for the area is being developed to identify its potential and take advantage of the area's qualities. The vision is based on improving Fisksätra's connection to the water by developing the functional sports area into a cohesive parkland. With clear goals, overall rules and strategic investments, the vision will elevate the area's vulnerable character and create a safer and socially sustainable space. The first step is the demolition of a tennis court that will be replaced by a submerged local sports ground for basketball, volleyball and mini tennis. This will then be supplemented with an outdoor gym, a playground and a dance floor. The design is based on a well-reasoned location and a combination of functions that create space for both outdoor activities and sports. Movement and play are encouraged, whilst creating an equal and safe place for everyone.
Connecting the city to the water
The design is based on clear lines in the form of prefabricated friezes and walls that weave the various functions together into a coherent space; this results in the individual parts being lifted to form a uniform park environment. The walls, which frame the sports field, contribute to the identity of the space while creating seating and shielding the functions where necessary. A clear but tactful colour scheme is used for the grounds to take in the character of the water. Other equipment are designed in a simpler form such as galvanized steel, and asphalt was chosen as the ground material. The design thus places emphasis on strategic investments and otherwise holds back through simpler solutions and material choices. The park is supplemented with a well-considered lighting proposal that places great emphasis on creating a safe environment. The first stage was carried out in 2019 and is ready for expansion if the municipality decides to continue with development of the park.
Gallery