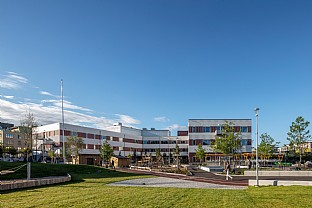 Vega School & Activity Centre - Landscape
A playground for the new Vega School and Activity Centre, with the goal of creating a lively meeting place for people of all ages and an environment that encourages them to be active and spend time outdoors.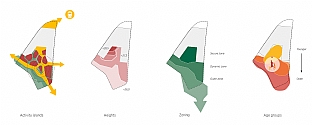 Facts
Client
Kanonaden Entreprenad Mälardalen AB
Architect
C.F. Møller Architects
Landscape
C.F. Møller Architects
Artist
Knee-Deep by Molly Haslund and architect Aspasia Balta, placed in the courtyard. Lines in Motion by Jakob Ojanen, located in the central staircase. The Vega Sphere by Space Popular (Lara Lesmes & Fredrik Hellberg), located in the library.
The outdoor environments of the school and the activities building have been designed as ambitious developments in terms of quality and attraction values. The limited size of the plot and the many students have meant prioritisation of smart, compact solutions. The playground environment includes many functions and qualities, the aim of which is to create varied environments that encourage action in children, regardless of age and gender. On the north side of the building, facing Vega Station, an inviting entrance square has been created. The square has a more urban quality, and communicates that the building is not only a school but also a social and cultural hub in the new district of Vega, located south of Stockholm.
Activity islands
The activity islands are a concept that allows compact programming of the area and at the same time create pathways for movement between the activity areas. The character of the islands is clear, so children can move from one environment to another. The activity islands contain various types of play equipment, thus the ground materials change from island to island. The ground surface can thereby easily be adapted to specific play equipment and the requirements of a particular activity.
The demarcation of the islands, involving edges, walls and seating, is important to the long-term creation of a sustainable and durable facility. Creation of a gradient from city to landscape has been a crucial aspect of the design. The gradient allows a logical anchoring of the playground in the surrounding urban landscape, and softens the boundaries between the playground and the surrounding environment. This contributes to a perception that the playground is bigger than it actually is. Out of school hours the playground is part of a strip of park going through the urban district.
Gallery