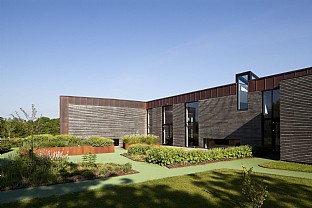 Hospice Djursland, Landscape
In hospice design, the architect's finest task is to create surroundings which will provide the best possible conditions to promote quality of life, respect and a dignified death. Djursland Hospice is first and foremost a building within a landscape.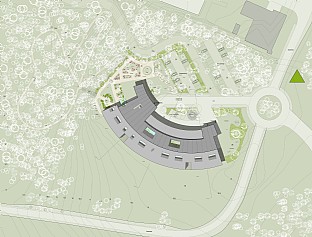 Facts
Client
Den Selvejende Institution Ejendommen Hospice Djursland
Competition
1st prize in competition. 2006
Construction
CC Contractor
Architect
C.F. Møller Architects
Landscape
C.F. Møller Architects
Awards
Civic Trust Award. 2012
1st prize in competition. 2006
East of the hospice, a sensory garden has been created - as an intimate outdoor space contrasting the natural vegetation of the site's southern slope. To the west an orangery is build adjacent to a mirror pond and a patio space.
The garden is centered round a pond that reflects the garden into the building's adjacent meeting room. The design of the garden makes it possible for both wheelchair users as well as bedridden patients to enter and get about, to ensure all residents the possibility to enjoy the gardens. Therefore the garden paths are paved with EPDM rubber surface and have rounded curves.
Variation has been paramount for the design of the planting scheme, the garden plants have thus been selected to make the garden appear vigorous from early spring until late autumn. Light wells have been made in the core of building in the form of atrium gardens to further stimulate the senses of the patients. Here the planting are of Mediterranean and Asians origin in order evoke patients memories of past holidays abroad.
Gallery