Aalborg Waterfront
The master plan for Aalborg Waterfront links the city's medieval centre with the adjacent fjord, which has previously been difficult for citizens to access due to the industrial harbour and the associated heavy traffic.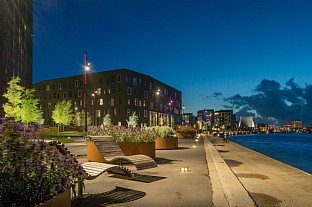 Facts
Year
Phase 1: 2004-2013, Phase 2: 2012-2015, Phase 3: 2022
Competition
1st prize in architectural competition. 2004
Landscape
C.F. Møller Architects (1st phase in collaboration with Vibeke Rønnow Landskabsarkitekter Aps)
Collaborators, other
ÅF Lighting
Awards
Town Planning Prize (Byplanprisen). 2016
Civic Trust Award, winner. 2014
Nordic Green Space Award. 2013
The Danish Lighting Award. 2011
Finalist for the Sustainable Concrete Award. 2011
Roadway Prize. 2011
Danish construction industry's honorary award. 2010
Aalborg Municipality Architecture Award. 2010
1st prize in architectural competition. 2004
By tying in with the openings in the urban fabric, a new relationship between city and fjord is created, and what was formerly a back-side is turned into a new, highly attractive front. The qualities of the approximately one-kilometre stretch of quayside are emphasised with a tree-lined and unusually detailed boulevard to accommodate cyclists and pedestrians. The medieval Aalborg Castle once again becomes the harbour's centrepiece through the establishment of an extensive green area to frame the historic embankments.
At the same time, Aalborg receives a harbour promenade with steps and recessed terraces, allowing people to get close to the water. Various kinds of urban gardens facilitate activities such as markets, ball games and sun-bathing. The central activities field - a play landscape inviting all age groups to motor-activities - is designed to accommodate various games and sports, from beach-volley in the summer to ice skating rink in winter. The area is surrounded by dramatically angled netting and lighting masts.
The materials chosen are as raw as the fjord itself, including asphalt, rubber, cor-ten steel, concrete and wood, while at the same time containing subtle references to the sea through wavy pavement patterns.
An urban plinth forms a raised base which provides flood protection and unifies the area's distinctive, freestanding buildings, including university, buildings student housing and the Coop Himmelblau-designed concert hall Musikkens Hus. Contrast and versatility have been the leading principles in the design of Aalborg Waterfront, and the waterfront has already become Aalborg's urban garden.
Gallery