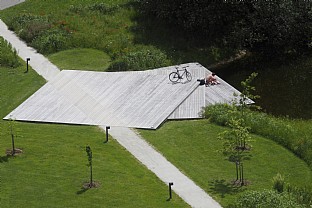 Campus Hall, University of Southern Denmark, Landscape
The assignment was to create a front plaza and park surrounding the new university halls of residence in Odense, Denmark. Students will have new green areas in which to relax. They will be able to watch the sun go down from patios and steps along the existing lake and opportunities to engage in sports activities in the park.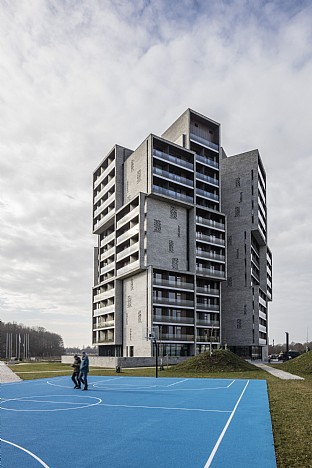 Facts
Client
Fonden Universitetskollegiet i Odense
Client consultant
C.F. Møller
Architect
C.F. Møller Architects
Landscape
C.F. Møller Architects
The park is bounded by two roads and Moseskoven woods to the south and it is designed with three linked bands of greenery along the east-west axis.
The lake will be extended to the south to bring the water closer to the building mass to create a reflection pool which will also collect rainwater from the plaza in front of the building. A swathe of reeds and alder trees will be planted on the banks of the lake.
The new plaza in front of the building will be raised slightly towards the entrance to make it visually more prominent in the flat park landscape. On the park's perimeters, there will be areas in which users can relax, including a recreational area with steps, an ideal spot to sit and watch the sun go down over the lake. The recreational areas are connected diagonally by paths, which in turn link the park with the surrounding district and recreational areas. A patio with a protruding garden wall will be built close to one of the halls of residence's three towers.
Along the drive leading to the halls, soil excavated in connection with building the basement is used to create a slightly undulating landscape, the effect of which partially shields the complex from the road.
Gallery