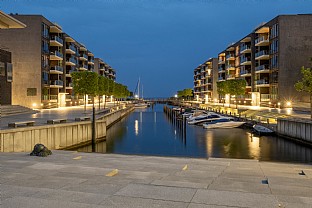 Tuborg North - the channels
Water is an important element of the Copenhagen cityscape. Many of the city's key sites are linked to water. The same applies to Tuborg North, in the area where the Tuborg breweries used to be. C.F. Møller are the architects responsible for the master plan to create a new quarter of the city here.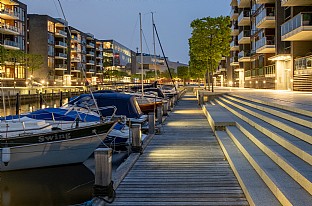 Facts
Client
Ejendomsinteressentskabet Tuborg Nord B Carlsberg A/S Vesterfælledvej 100 1799 København V
Landscape
C.F. Møller Architects
The canal project is an important part of the master plan. It redefines the canals in the area, including the waterline, residential building façades, the design of a central plaza, a rock garden and three bridges.
The plaza will be the central feature of the Tuborg North district: Here old meets new – and both meet the water. There is a striking flight of granite steps which continue to the bottom of the canal, creating an inseparable link between the plaza and the water.
The rock garden is a place to play and explore, which also creates a link between dry land and water. The garden is designed as a free composition of rocks and stones, which is flooded by canal water. The water depth is calculated to ensure that there is always water between the stones – even at low tide.
The three bridges which bind the area represent three different functional and technical solutions, united by a simple and timeless design expression.
The project focuses strongly on ensuring that the canal areas remain open to the public, and that the surrounding residential buildings are in contact with the water. As a result, the city, the district and the residential units all benefit from the flow of water through the city.
Gallery