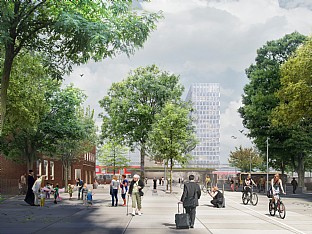 Train Station Hamburg-Altona Outdoor Spaces
Urban space design reconnecting and greening the surroundings of the new Hamburg-Altona train station.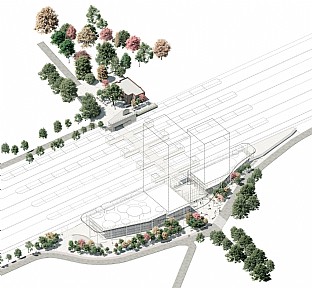 Facts
Client
ProHa Invest, Deutsche Bahn, Freie und Hansestadt Hamburg
Competition
1st prize in architectural competition. 2022
Client consultant
Drost Consult
Architect
C.F. Møller Architects
Landscape
C.F. Møller Architects
Awards
1st prize in architectural competition. 2022
The outdoor areas and front plaza of the new Hamburg-Altona train station are an important part of the placemaking strategy of the large-scale neighbourhood transformation, and offer the chance to reconnect and strengthen urban and green areas formerly separated by infrastructure.
The urban spaces tie in seamlessly with the station's inner passages, and creates visible address points for the major new facilities that make up the station complex: A hotel tower, office tower, retail units and gastronomy. At the same time, the front plaza become a pivotal point in the wider area regeneration including a concert hall, sports stadium, creative workplaces and housing.
Biodiversity and stormwater handling
The design is primarily shaped by the intense flows in and around the station, combined with sustainability features such as a strengthened local biodiversity, integrated stormwater handling on and under the surfaces, and priority for cyclists and pedestrians. Dense and varied tree plantings that provide splashes of colour changing with the seasons structure the simple and continuous plaza "floors", and contain pockets for sitting, dining and local community events such as markets and concerts. The topography of the site is turned into an advantage, combining full accessibility with sitting steps and discreet zoning.
Gallery