Aarhus University Hospital - AUH
The largest hospital project in the history of Denmark, the New University Hospital in Aarhus, has been added to the existing Aarhus University Hospital in Skejby to create one overall hospital complex.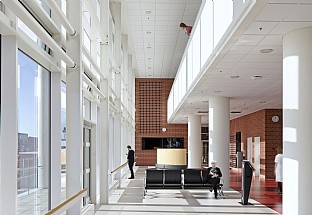 Facts
Size
216,000 m² newbuild, 159,000 m² conversion =375,000 m², plottage: approx. 970,000 m². 797 beds, 43 dialysis seats, 80 hotel beds.
Competition
1st prize in international architectural competition. 2007
Client consultant
NIRAS A/S
Engineering
Rambøll, Alectia, Søren Jensen Rådgivende Ingeniørfirma
Architect
C.F. Møller Architects in collaboration with Cubo Arkitekter
Landscape
Schønherr Landskab
Artist
Sophia Kalkau, Hanne Nielsen & Birgit Johnsen
Collaborators, other
Lohfert & Lohfert
Awards
Building Better Healthcare Award - Best International Design. 2017
1st prize in international architectural competition. 2007
The resulting hospital-city is the size of and has been laid out in the image of an archetypal small Danish town, rising towards the centre around a tall landmark building. It is also Aarhus' largest workplace. The hospital complex is structured with a hierarchy of quarters, streets, plazas and squares, to create a diverse and lively green urban quarter, and enable intuitive way-finding for its users. Systematic use of knowledge- and evidence-based design means that the concept of "healing architecture" has influenced the design of the hospital - from the layout of single-bed wards, to the use of daylight and light inflows, to the design of landscape and garden spaces. The hospital is also designed to flexibly meet future requirements of technology, treatment methods and working routines.
The overall complex is divided into professional communities with their own identities. This ensures a clear structure, based on three elements: a two-storey base with treatment functions; wards above the base up to a height of four storeys; and in the middle the "Forum" central arrival area, where public functions are located at the foot of a 13-storey centre point acting as a point of orientation.
Gallery