Landspitali University Hospital, Reykjavik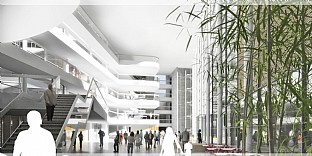 Client
Ministry of Health and Social Security, Iceland
Address
Reykjavik, Iceland
Size
170000 m² - 454 beds, 75 hotel beds
Year
2005-2008
Competition
1st prize in international competition. 2005
The fundamental idea behind the new university hospital is to unite the requirements towards modern hospital planning and targeted treatment with clear and simple architecture.
The architecture was inspired by the city of Reykjavik and by the volcanic landscape of Iceland, with a facade composed of the island's characteristic basalt rock, used in varying shades to emphasise different functions. The buildings also harmonise with their surroundings in terms of scale, for example by emphasising the view of Iceland's principal church, Hallgrimskirkja, and the flat, open landscape of Vatnsmyri towards the south.
The main entrance, which refers to the main building of the original hospital, is a transparent construction providing access to an open thoroughfare sequence which links and guides towards the hospital's various departments.
A common laboratory building with teaching rooms and a library links the university with the treatment departments, out-patient departments and wards - a unique environment to the benefit of researchers, students, staff and patients.
Team
Architect
C.F. Møller Architects in collaboration with Arkitektur.is
Landscape
Schønherr Landskab (DK)
Collaborators, other
SWECO AS (N)
Verkfrædistofa Nordurlands (IS)
Awards
1st prize in international competition. 2005
References
2009 Tecnica Ospedaliera maggio 2009 p. 44-52
2006 Arkfokus #3, p. 4-5
2005 Arkitekten #14, p. 16-17
2005 ErhvervsEjendom #11, p. 36