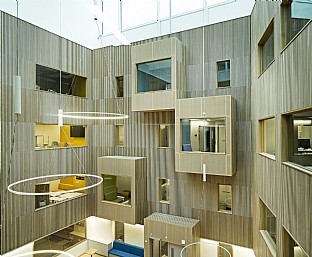 Haraldsplass Hospital - new ward building
Among other things, the new main building at Haraldsplass Diakonale hospital comprises a new entrance, recycling centre, emergency room and wards with a total of 170 beds of which ¾ are single-occupancy.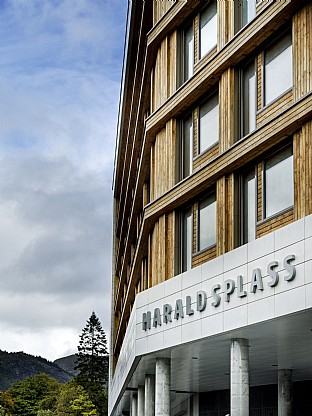 Facts
Client
Haraldsplass Diakonale Stiftelse
Competition
1st prize in architectural competition. 2012
Client consultant
Erstad & Lekven Bergen
Construction
LAB Entreprenør AS
Engineering
Rambøll Norge, Sweco Norge
Architect
C.F. Møller Architects
Awards
Building Better Healthcare Award - Best International Design. 2019
European Healthcare Design 2019 Awards - highly commended. 2019
1st prize in architectural competition. 2012
The new building is located in front of the original hospital, built in 1940, between the foot of Ulriken and the Møllendalselven river, and the building's design follows the river's course. All patient rooms enjoy a view of the city and valley through large windows that are adapted to the viewing angle from the patients' beds.
In contrast to traditional hospitals, there are no long corridors. Instead, the open model forms the basis of the wards. This provides efficient logistics, flexibility and proximity between caregivers and patients.
The wards are distributed around two large covered atriums that form the frame around the common areas: A public foyer with reception and café, and a more private common room for the patients and their guests. The atriums ensure that daylight enters the building, and also contribute to better overview and easier orientation.
A footbridge between the main building and the original hospital ensure an efficient link for both able and bedridden patients, personnel and relatives.
The project has focused on environment and longevity. There has also been great emphasis on choosing natural, maintenance-free materials.
The building's facades have a material quality that harmonise with the existing buildings, while also reflecting the contemporary in the new building. The oak cladding in the white fibre concrete provides a warm and welcoming expression.
A new footbridge across Møllendalselven river enters at the axis from the hospital's new main entrance, providing an obvious and logical approach for pedestrians and cyclists from Årstadveien, where a new light rail stop will soon supplement the current bus stop.
The linden lane and the beautiful park in the southern part of the hospital area will be preserved as they appear now.
Gallery