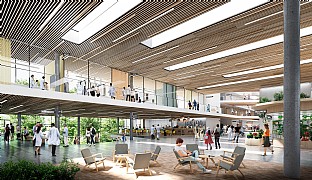 LMU University Hospital Campus Grosshadern
Masterplan and hospital design that transforms a monotonous 'health factory' from the 1970s into a diversified and green hospital town on a human scale.
Facts
Client
Freistaat Bayern Bayerisches Staatsministerium für Wissenschaft und Kunst Staatliches Bauamt München 2 Projektgruppe Neubau Grosshadern H 3.4 Ansp: Philipp Treuheit und Dieter Schuster
Size
140,000 m² (Phase 1), 280000 m² Total, ca. 30 ha. Campus
Competition
1st prize in architectural competition. 2020
Client consultant
Eisenreich. Drechsel. Partner. Architecten Wöhrdstrasse 91 93059 Regensburg mail@eisenreich-drechsel.de / eisenreich@eisenreich-drechsel.de Werner Eisenreich
Engineering
Wetzel & von Seht (structural) Klett Ingenieure (services)
Architect
C.F. Møller Architects in collaboration with HENN
Landscape
SINAI Gesellschaft von Landschaftsarchitekten
Collaborators, other
HT Hospitaltechnik Planungsgesellschaft HHP Nord/Ost Büro Heinekamp
Awards
1st prize in architectural competition. 2020
The Grosshadern Campus is part of the Ludwig Maximilian University clinic (LMU), one of the leading national and international medical sites. The new campus comprises a total of six new clinical centres and is the largest public construction project in Bavaria since the hospital was built in the 1960s/70s. The first construction phase of the large-scale project involves the realisation of three centres, the cardiopulmonary vascular centre, the oncology centre and the new diagnostic centre, which will be built on a 70,000 m² large area. This initial construction stage will constitute around 60 percent of the total construction volume of the new hospital and will be financed by the State of Bavaria to the tune of around one billion euros. The park forms the central element of the design as a healing and meeting space for visitors, patients and staff. The intertwining of the park – the lung of the site – and the spine – the logistical heart of the hospital – is what makes this master plan special and guarantees a high amenity quality.
Human and healing
By greening the roof of the main axis and including numerous terraces, natural elements are systematically brought into the structural core of the hospital. The landscape concept is intended to promote atmospheric diversity as well as patient well-being and recovery. This idea is in line with a basic principle of contemporary healthcare architecture: the focus is on the human being.
The existing buildings will be successively demolished and will make way for a coherent and accessible ensemble. A smaller-scale silhouette transforms the existing uniform "healthcare factory" into a varied, urban and human appearance. The master plan focuses on short distances, clear orientation and an attractive design. Its modular structure can be easily expanded as needed, ensuring a high degree of flexibility and sustainability for the campus. A generously-sized entrance area with a light-flooded atrium gives expression to the new, high-quality site.
Gallery