Skejby Hospital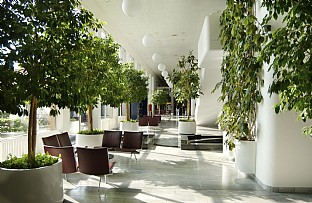 Client
Århus Amt
Address
Aarhus
Size
159000 m², 452 beds
Year
1982-2006
Complete hospital complex in Skejby, north of Aarhus.
The hospital is designed as a low, urban structure, interconnected by an internal street, connecting the varius parts of the hospital in a simple and easily comprehended structure. During the years, the hospital has seen a large number of additions, alterations, etc., all of them caried out with C.F. Møller in charge.
In 2012 C.F. Møller began the building of the New University Hospital, which creates a hospital complex the size of a Danish provincial town, fitted end to end with the existing Skejby Hospital.
Team
Engineering
Søren Jensen A/S
Nieland A/S
Architect
C.F. Møller Architects
Landscape
C.F. Møller Landscape
Awards
Aarhus Municipality Architecture Award. 1996
Denmarks Best Hospital 8 years in a row, 2008-2015
References
2010 Urbanism and architecture 7.2010 NO. 70 s. 82 - 103
2008 Århus fra oven, p. 224-225
2008 Aarhus Kommune: 20 års præmiering
2004 C.F. Møller: Samfund og Menneske
1993 Mads Møller: Romantik og Snusfornuft, p. 20