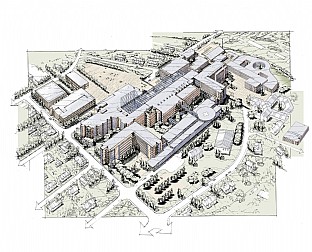 Vestfold Hospital, masterplan
For Vestfold Hospital (Sentralsykehuset i Vestfold) C.F. Møller Architects has made a new masterplan for the extension and restructuring of the hospital complex over a 7-year period.
Facts
Client
Helseregion Sør, Norway
Architect
C.F. Møller Architects in collaboration with Kristiansen & Bernhardt arkitekter
The plan describes the optimization of the hospital in regards to traffic, logistics and capacity, and outlines the architectural solutions within the hospital site.