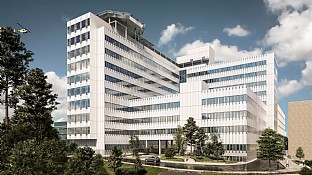 Danderyd Hospital
A major expansion of Danderyds Hospital in Stockholm will ensure the streamlining of care and an improvement to the working environment. C.F. Møller Architects is taking part by designing one of the new wards. The 14-storey building will accommodate at least 164 patients, receptions, support functions, and a new helipad. The block will be linked to the new emergency unit, and will facilitate the flow between buildings.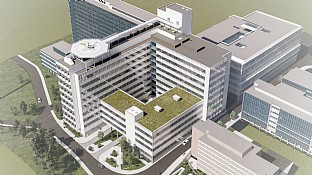 Facts
Architect
C.F. Møller Architects in collaboration with Carlstedt Arkitekter
Landscape
C.F. Møller Architects
The form of the new care building means that the visitor will be met by a human scale, as the entrance is located in the lower parts of the building facing toward the park. Structure and organisation have been important aspects in the design of the façade to enable future flexibility. The structure is rational and clear, and similar to the characteristic architecture of Danderyds Hospital. The volume of the building has been optimised to enable great views from the ward levels. It has been important to ensure fluid circulation, and easy access to transportation from the lower reception level.
The new building enables reception and inpatient care activities to meet current government requirements, application of modern working methods, and performance of patient-safe care, while simultaneously enhancing the efficiency of care.
Gallery