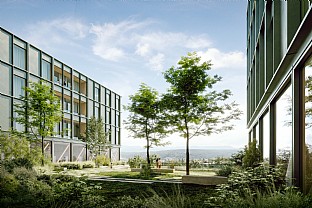 Tübingen University Hospital Expansion
Expansion to German university hospital sets high standards for sustainable hospital construction. Further, there is a focus on healing architecture with daylight, flow, and wayfinding, as well as flexible structure for a future-proof construction.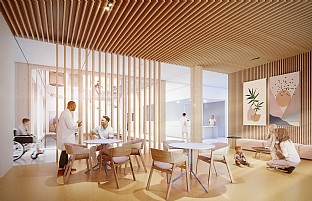 Facts
Client
Land Baden-Württemberg Vermögen und Bau Baden-Württemberg
Engineering
Klett Ingenieure
Architect
C.F. Møller Architects in collaboration with HENN
Collaborators, other
Bartenbach Lightning solutions
Awards
4th prize in international architectural competition. 2022
The project is part of the master plan for Tübingen University Hospital, in the German state of Baden-Württemberg, and meets the state's high sustainability standards. Energy efficiency, a healthy indoor climate, low life-cycle costs, and local materials with a low carbon footprint are focal points of the design.
The expansion of Tübingen University Hospital consists of three building volumes built as timber hybrid constructions. The facade design shows the functional layering of the building, with treatment and laboratories located in a solid base. At the top, the wards are placed as a wooden structure. Here the facades are clad in recycled aluminium and have a tight window composition. Between the top and the base level is the arrival level with outpatient departments and general distribution areas, where the wooden structure is visible in the interior, double-height glass facades draw in daylight, and views of the green surroundings support the wayfinding. The facade design reflects the generic structure of the building with a simple geometry, efficient spaces and workflows, and an optimal flow for patients while ensuring discretion.
The focus on daylight, varying room dimensions, and healthy materials ensures a good and salutogenic indoor climate for the work environment and the well-being of patients. Interior facades are clad in wood while the design of glass facades is based on simulations that calculate solar radiation to achieve a good thermal indoor climate. In several places, daylight is drawn into the building volumes through courtyard spaces, where the daylight is redirected to adjacent spaces and the hospital building's internal corridors. Daylight is thus used optimally and is pervasive throughout the building structure to be both energy-optimising, recreational, and wayfinding-supportive.
The building is discreetly integrated into the area's green landscape, which is drawn up to the building's base where the large glass facades let in the surroundings.
Gallery