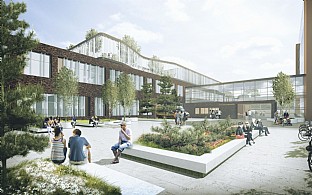 Vendsyssel Hospital - extension and refurbishment
The task includes the extension and refurbishment of the Vendsyssel Hospital in Hjørring (Denmark). The design proposals seek to enhance the overarching architectonic identity of the hospital and to integrate buildings and landscapes in various ways. The design includes a children's oasis on the roof.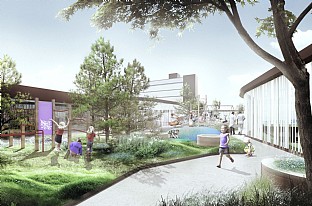 Facts
Size
14000 m² new build, 11.000 m² refurbishment
Competition
1st prize in competition. 2014
Architect
C.F. Møller Architects
Landscape
C.F. Møller Landscape
Awards
1st prize in competition. 2014
The task includes full-service consultancy in connection with construction of a new treatment facility, a mother and child unit and overall planning of the extension and refurbishment of the Vendsyssel Hospital site in Hjørring. The new buildings will be low-energy class 2020 and are expected to be certified in accordance with Green Building Council Denmark's DGNB-DK Gold.
The design proposal creates an enclosed form surrounding large, well-lit courtyards. The structure is transparent; a circulation loop connects the individual treatment areas and allows for flexibility and overlaps between neighbouring functions. The result is a logical, self-explanatory structure. There are efficient and highly functional links making it easy to find your way around the building.
The individual and distinctive architecture features sterling materials, in combination with a strong emphasis on landscape, including a series of outdoor spaces with integrated planting, paving and stormwater handling, successfully exploiting every opportunity to create healing architecture. One special characteristic of the building is the layout of the third-floor paediatric unit, which includes an enclosed and protected playground, resembling a green oasis, on the roof.
Gallery