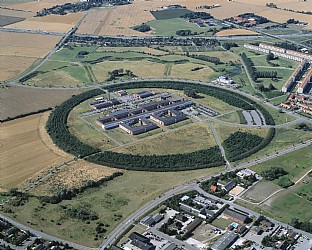 Køge Hospital
Built in the 1980s in what was then the middle of an empty field, the hospital was intended to carve out its own identity without any particular reference to the location. Accordingly, Køge Hospital (formerly Roskilde County Hospital in Køge) has been given its own landscape space – an extensive oak glade.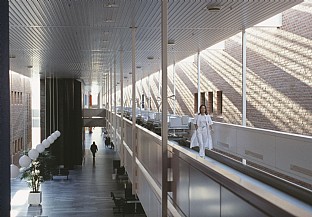 Facts
Client
Region Sjælland (formerly called Roskilde Amt)
Competition
1st prize in invited competition. 1981
Engineering
Rambøll, Alectia, Grontmij | Carl Bro
Architect
C.F. Møller Architects
Landscape
C.F. Møller Architects
Awards
1st prize in invited competition. 1981
The hospital has a clear and comprehensible structure. Externally, it is surrounded by its characteristic circle of woods, which provides the complex with a natural definition in relation to its surroundings. Internally, the hospital is built up around a common two-storey foyer which provides access to the wards and treatment units. The clear structure and low-rise construction – the entire hospital is on just two levels – makes it easy for patients, staff and visitors to find their way around. Between the buildings, unpretentious and inviting courtyards and garden spaces encourage people to spend time outdoors.
Four artists, Ib Geertzen, Paul Gadegaard, Albert Mertz and Jørn Larsen, have decorated the long foyer with striking works of art. The variety of different shapes and colours makes the complex's "main street" a vibrant and exciting place to be.
Gallery