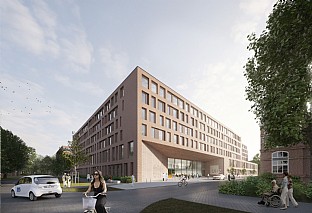 UHZ Heart Centre
The UHZ Heart Centre is part of the masterplan to develop the Eppendorf Clinic into one of Europe's most modern hospitals, and contains a complex programme of emergency treatments, OP theatres, day clinics and both ICU and regular ward facilities.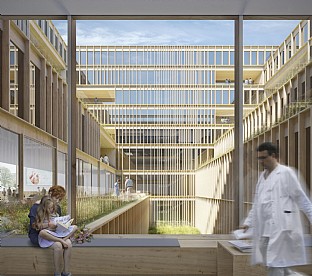 Facts
Client
Universitätsklinikum Hamburg-Eppendorf
Size
70,000 m² - 43.300 m² clinics/8.200 m² basement/18.000 m² Parking
Client consultant
D&K drost consult GmbH
Architect
C.F. Møller Architects in collaboration with Henn
Landscape
C.F. Møller Architects
Awards
2nd prize in international architectural competition. 2017
The building volume responds to the urban plan's ambitions for a new, clearly defined green boulevard that will become the future spine of the entire clinic's structure; and the exterior volume defined in the planning outlines is animated and refined via a series of setbacks and cut-outs which create a welcoming main entrance and green outdoor terraces close to the patient wards.
The interior is designed as a contrast to the monolithic brick exterior, featuring a warm and homely atmosphere with wood claddings, double-height spaces and ample daylight everywhere via large terraced and planted courtyards. All patient rooms are located with views to the outside, and the flexible layout of the wards allow for efficient operations while ensuring closeness between staff and patients at all times.
The building's functional programme is stratified in a logical manner to ensure flexibility, smooth flows and intuitive wayfinding for staff, patients and relatives. The groundfloor houses day patients and emergency sections, while the first floor is occupied by OP theatres and ICUs. The upper floors with regular wards are structured around an innovative central core section containing vertical circulation and two special areas for patient lounges and staff hub respectively, which are located closely together yet form separate entities across several floors.
In this way, staff teams from different sections can meet and relate in calm, open off-stage areas, while patients and relatives can enjoy bright and friendly multi-level spaces providing a stress-reducing environment, in accordance with the principles of healing architecture.
Gallery