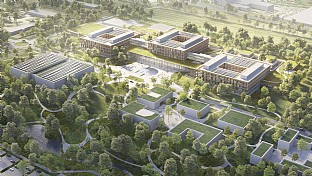 Coburg Hospital
Future-oriented and flexible hospital in Coburg, Germany creates ideal conditions for interdisciplinary collaboration, digitalization, and healing with its efficient structure, good daylight conditions and views of green surroundings.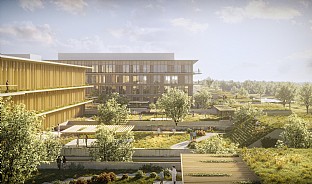 Facts
Client
Klinikum Coburg GmbH
Engineering
IB Klett & IB Süss
Architect
C.F. Møller Architects in collaboration with Henn Architects
Collaborators, other
HT Hospitaltechnik
The flexible and modular structure of Coburg Hospital's new building is designed to adapt to future needs in terms of digital, technical, and functional developments in the healthcare sector, including the fact that the structure can be extended seamlessly in a westerly and southerly direction.
The region is characterised by it's the green and lush landscape which the architecture integrates with. The new clinic consists of building modules which, despite variations in size and height, form a horizontally coherent ensemble. The composition creates internal courtyards and gardens that ensure green views, good daylight conditions, natural ventilation, and recreational spaces.
Efficient workflow and safe orientation
Arrival at Coburg Hospital's new building is via a wide forecourt with entrance to a double-height foyer on the ground floor, from which patients and relatives can easily orientate and be directed to various clinical departments and bed sections via a longitudinal inner street. The horizontal, closely connected wards also create good conditions for interdisciplinary collaboration and an efficient workflow with short distances.
All wards are organised in the shape of a doughnut with staff functions located in the inner ring towards the courtyard, and connected via glass bridges, for optimal workflow and flexibility. The bed sections are located at the outer side of the doughnut-shaped wards with optimal views to a green roof garden and the landscape in all directions.
With a clear and robust logistics concept, the design demonstrates a high degree of spatial quality and an efficient, standardised building structure for efficient workflow and secure orientation.
Gallery