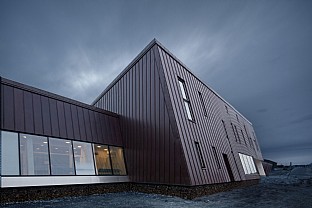 Queen Ingrid's Hospital, National Hospital of Greenland, Nuuk
A master plan, compiled by C.F. Møller Architects, outlines how Dronning Ingrids Hospital, built in 1980, can future-proof its buildings through a combination of new buildings and renovations.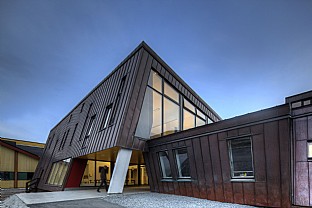 Facts
Client
Health Directorate, Greenland
Size
20,500 m² (8000 m² new building and 12500 m² rebuilding) - 120 beds
Architect
C.F. Møller Architects
Landscape
C.F. Møller Architects
Collaborators, other
The A.P. Møller and Chastine Mc-Kinney Møller Foundation has contributed to phase I.
This involves, amongst other things, a new way of admitting emergency patients via an emergency department with a surgical wing, recovery unit, and intensive and diagnostic wards to secure rapid diagnosis and treatment plans. Other initiatives include a new psychiatric department, a new national pharmacy, and a new clinic for GPs. Extra space will be created in the existing wards by building a new patient hotel, which will have a distinctive rounded form, providing patients and staff with views of the natural surroundings, including Sana Bay and the fjord.
The first of the master plan's nine stages has now been carried out.
Gallery