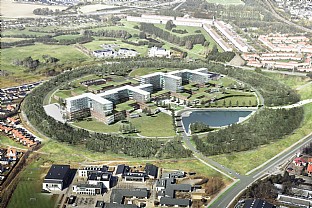 Køge University Hospital
Køge University Hospital (USK) is an expansion of the existing Køge Hospital, which will be enlarged threefold to a total surface area of 177,000 m².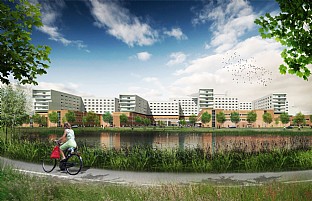 Facts
Size
177,000 m² (130000 m² additional building)
Competition
1st prize in international architectural competition. 2013
Engineering
Rambøll in collaboration with Alectia and Søren Jensen Rådgivende Ingeniørfirma
Architect
C.F. Møller Architects in collaboration with CUBO arkitekter and Gehl Architects
Landscape
C.F. Møller Architects
Awards
1st prize in international architectural competition. 2013
The project is based on the existing hospital's manageable structure built around a simple, general traffic system and green, informal gardens and waiting areas.
The University Hospital will keep the existing lobby as the main thoroughfare and from there four vertical transport routes will be added. Each transport route connects to a square with individual gardens, which are easy for patients, relatives and personnel to navigate.
Green surroundings, ample daylight, courtyard gardens, green roofs and views are key elements of the concept of health-promoting architecture. This maintains the original landscape, the characteristic, circular forest that surrounds the hospital, as well as lakes, rivers and vegetation, with the new wards all looking out either over the landscape to the west or Køge Bay.
With regard to technology, the construction makes optimal use of the square footage by ensuring that the floor areas can be kept free for the primary clinical functions, etc. This is achieved by placing the technical installations, electricity, water and sewerage, ventilation, fire protection, etc. in a decentralised space situated next to each room, whereas these are usually located centrally in traditional hospital buildings. This allows for easy modification of the features of each room, ensuring that the building is future-proof.
Gallery