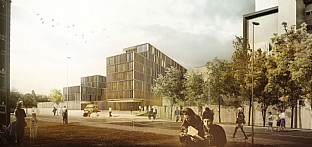 Viborg Regional Hospital, new acute treatment center
The competition proposal for Viborg Regional Hospital new extension adds both a new acute treatment center and a new eye-catching main entrance to the hospital. The extension gives the hospital a welcoming appearance and marks a clear visual connection to the city and the scenic Southern Lake. The acute treatment center forms the basis at the bottom of the building, while the floors upwards hold intensive care and surgery and two bed sections adding all in all 60 single wards to the hospital.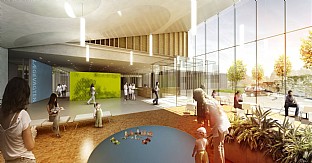 Facts
Client
Region Midtjylland
Regionshospitalet Viborg
Projektafdelingen
Size
24000 hereof 22.000 m² new building and 2.000 m² rebuild +32.000 m² expansion
Year
2012, 2nd phase in competion
Client consultant
Arkitema, Arkitekt Palle Bo Rasmussen
Moe & Brødsgaard, Ingeniør Poul H. Hansen
Engineering
Alectia
Viborg Ingeniørerne
Architect
C.F. Møller Architects in cooperation with KPF Arkitekter
Landscape
C.F. Møller Architects
Awards
2. place in international competition. 2012
The center creates a safe atmosphere for the patients and relatives, where it is easy to find one's way. Open reception areas with large glass façades heighten a sense of locality and offer a splendid view to the surroundings. Furthermore, each floor has its own color, making it easy to recognize. Everywhere in the building a clear and unequivocal displaying of signs helps one's ability to navigate. All important functions are within short range, which puts the well-being of the patient at the center as well as it ensures an efficient working environment for the staff.
Every room's natural inflow of light creates a well-balanced indoor climate, and the choice of materials prioritizes good acoustics. A sustainable design aims at recycling as much energy as possible and accordingly achieves low-energy standard (2015).
Most of the rooms and floors share the same structure and design and are therefore easy to change in size. Likewise, windows of the façade are exchangeable with walls and vice versa, without it disturbing the overall operation of the hospital. This allows for a flexible use of each ward. The building as a whole also facilitates possible future extensions.
Gallery