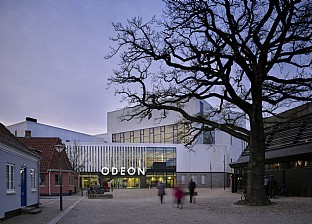 Odeon Music and Theatre Hall
The vision of the winning proposal for the new music and theatre hall is to create a cultural powerhouse with four stages and The Academy of Music and Dramatic Arts, Southern Denmark under one roof.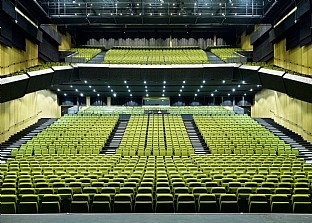 Facts
Client
PFI Group: Odense Municipality (Client), KPC-Byg (Developer, Turnkey Contractor)
Size
32,000 m² - incl. underground parking
Competition
1st prize in competition. 2008
Architect
C.F. Møller Architects
Collaborators, other
Gade Mortensen Akustik, AIX Theater Planning and LydRommet
Awards
Saint-Gobain Gyproc 11th International Trophy – Grand Prix. 2018
1st prize in competition. 2008
The great hall accommodates approximately 1800 spectators while the small hall accommodates approximately 300 spectators. There is also a chamber music hall and a rhythmic hall. The Culture centre also has a restaurant, bar/lounge with access to a roof terrace, offices and canteen as well as a parking basement.
The site is located in the Hans Christian Andersen Quarter and borders both the historical town and contemporary multi-storey housing. The varied townscape has provided inspiration for the architecture. The development is composed of a number of town houses, the heights of which vary in harmony with the neighbouring buildings.
The cultural centre will acquire the character of a city within a city, as the various buildings will be linked by glass-roofed arcades, squares and open spaces which connect with the surrounding neighbourhoods.
Gallery