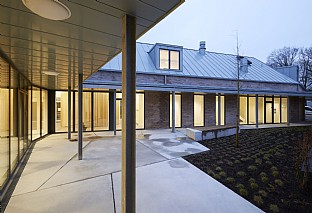 Parish community centre for Nibe Church
The new parish community centre for Nibe Church fits into the city's historic centre, but also adds to the experience that Nibe is a town in continuous development.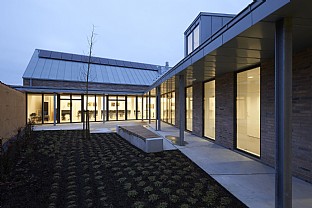 Facts
Client
Nibe og Vokslev menighedsråd
Address
Stenvej, Nibe, Denmark
Competition
1. præmie i arkitektkonkurrence. 2012
Client consultant
Thyge Jakobsen
Bygningskonsulent, præsteboliger i Aalborg Stift
Drosselvej 6, 9520 Skørping
Tlf.: 9686 7080
Architect
C.F. Møller Architects
Awards
1. præmie i arkitektkonkurrence. 2012
The parish community centre is designed as an uncomplicated and open urban building with a large covered entrance area facing the Tyvedalen path, large windows and a covered passage way that invites you in to a green courtyard.
The building follows the line of the street and is therefore shaped like a number seven, encircling the courtyard.
The building is simply designed with offices in the wing closest to the church, a foyer in the centre of the building, and a hall as well as confirmation rooms in the wing alongside a newer commercial area.
The local plan in Nibe specifies that the parish community centre must be built in brick, which is typical for Danish construction, and has strong qualities such as very long durability, minimal maintenance and a beauty that intensifies over time.
The façades are built from soft-moulded coal-fired brick with light coloured pointing. The roof is covered with double lap zinc tiles, which materially are very similar to the lead roof of the Nibe Church behind.
Gallery