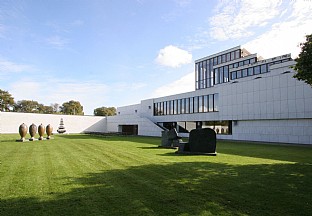 KUNSTEN – masterplan for restoration and revitalisation
KUNSTEN, formerly the Museum of Modern Art, Aalborg, is an architectural gem designed by the world-famous Finnish architect Alvar Aalto. In 2012, the museum celebrates its 40th anniversary.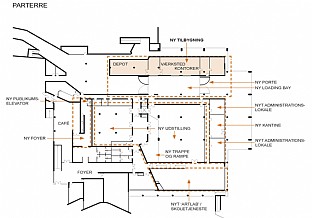 Facts
Client
Den selvejende institution KUNSTEN
Size
6,000 m² + 700 m² newbuilding
Architect
C.F. Møller Architects i samarbejde med Arkitektfirmaet Søren Kibsgaard
The project encompasses a thorough restoration of the entire building complex, sculpture park and forecourt, including a complex renovation of the marble facades and a tidying-up of the vegetation around the museum to increase its visibility, plus a revitalisation of the building''s exhibition spaces and its handling of artworks, together with visitor and staff facilities.
The museum will be upgraded with a focus on accessibility, logical flow relationships and security at valuable art exhibitions and events.
New temporary exhibition spaces will be created in the vacated storage areas at ground level, and in this connection the foyer area and café will be upgraded to provide better visibility and views – including of the sculpture park – as well as enhanced public-friendliness and accessibility. There will be a new workshop building and a lockable loading bay in the existing covered parking area. The administration will be centralised at ground level, and the school service will be given more room. The museum''s ground floor, which today contains virtually all of the existing exhibition space, will be partly restored to emphasise the original idea and design, as well as to secure a better visitor flow and greater security in connection with a broader range of activities from regular exhibitions to events.